October is Down syndrome awareness month. In honor of our children, many of the bloggers in the DS community are taking on the challenge to spread awareness and acceptance by blogging every day in October.
I think I am up for the challenge. Most my entries won't be long, some won't be related to DS (because even though that is what this is about, there is a lot going on in our lives not related to it!), there will probably be a ton of pictures, and maybe you will learn something about DS too.
That said, check back daily. I have lots of ideas brewing.
Off to help grandma move into her new apartment! Yay! Happy first of October everyone!!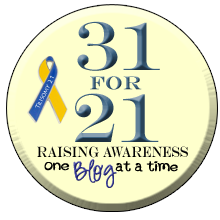 Grab This Button