I have been working on revamping the blog and adding some new pages. One of the pages I have planned, "Who's Who on Charlotte's Web," is going to have links and explanations of everyone I refer to in my entries. I have recently realized the number of readers who do not know us personally is growing, so I figured it would be helpful.
In trying to do this, it occurred to me that I have never created a post solely about Missy. I write about her and her children in many of my entries, but many readers are probably thinking, who the heck is this person?!
So, who is Missy?!?
Technically, we are not related. Well, at least by blood. However, we have know each other most of our lives, and been "BFF's" for over 20 years. Missy has two brothers, I have three. Both of us are lacking a sister, and we have filled that void for each other. We spent most weekend nights in high school at each others houses and our days working at my parents' cafe together.
We went to the same college, lived together for 4 years (which everyone warned us against; they said we would never be friends again if we lived together), and both majored in education. Missy graduated with her special ed degree, something she always has and always will have a passion for.
After college, we both found teaching jobs. Soon after that we stood up in each others' weddings, bought houses and puppies.
Katherine and Alec were born 3 months apart, though at Alec's birth they were pretty much the same size. Everyone thought it was funny that Missy had the 9.5 pound baby while I had a little peanut.
I consider myself very, very lucky. I have lot of friends, but no one is my life comes close to what Mis means to me and my family. Just like
Katie
, I struggle with what to call Missy. "Best friend" sounds very elementary school-ish and really doesn't come close to what she is. At times I have called her my sister, though that can be confusing as well (like when one of the preschool moms asked Chris if I was his sister or Missy's...he was so confused). So for now, she is just "my Missy."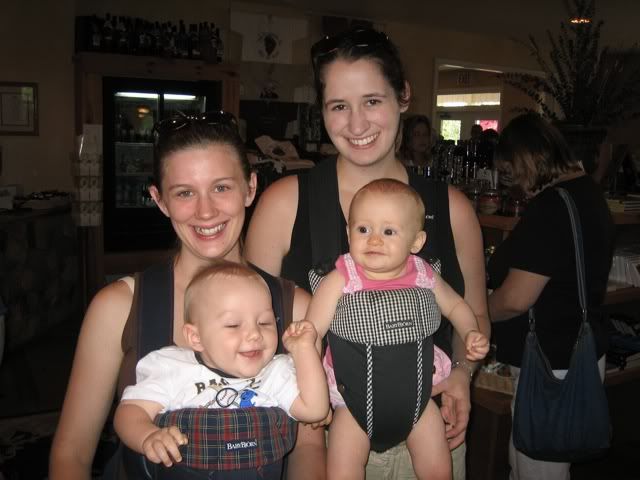 (This was back before we realized what a good baby carrier was; neither of us would be caught using a bjorn anymore!!)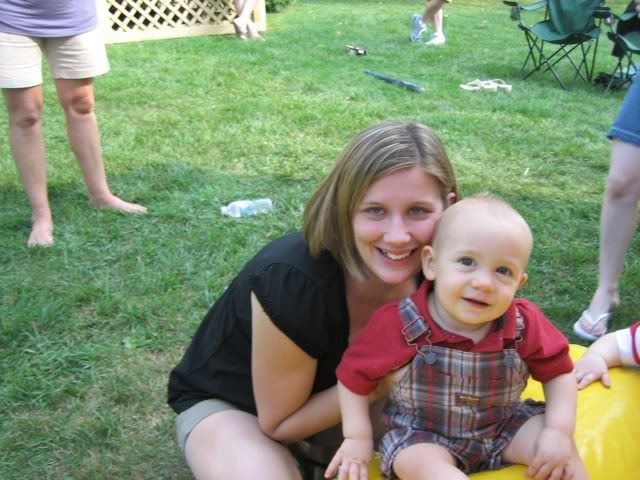 Missy tends to refer to Will as her middle son.
Missy was at our house watching the older kids the night we came home from the hospital with Charlotte. It was a couple hours after we had been told about the Down syndrome, and I was a mess. I remember sitting and pointing out every feature that said to "Down syndrome" and trying to get Missy's opinion. We didn't have a definite diagnosis at this point, even though I knew. Missy sat and stared at Charlotte and just kept saying over and over again, "she is perfect." She was right.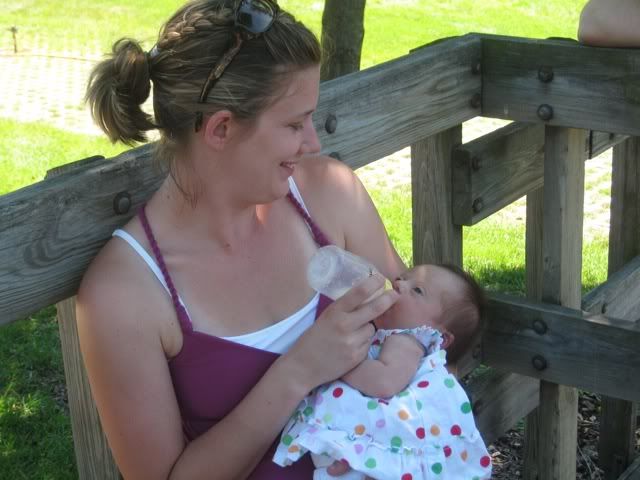 Missy teaches middle school special ed, and as I have said before, she is a fantastic teacher. She truly has a passion for what she does. Even before Charlotte's birth, Missy had taught me so much about disability. After her birth, I realized what an huge impact she was going to have on Charlotte's life.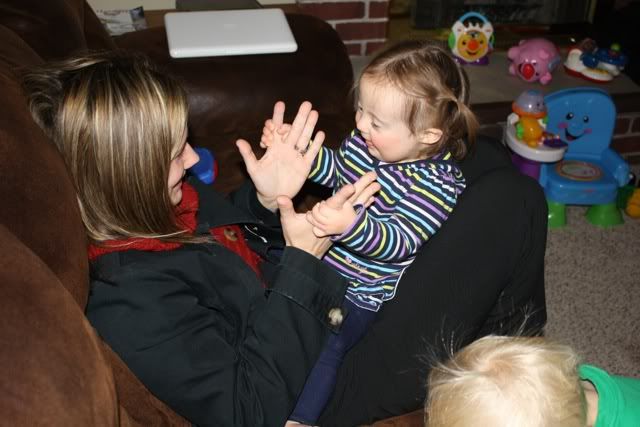 Within days of Charlotte's diagnosis, Missy had already decided to organize our team for the Down syndrome awareness walk. She came up with the name, "Charlotte's Web," to represent the large group of supporters that surround my little girl.
Our move brought us pretty dang close to Missy and her family. We live a quick 6-minutes from each other. We see each other multiple times during the week, our kids are great buddies and so are our husbands.
I gotta tell you, everyone needs a Missy in their life.