Today, over 70 of our closest family and friends joined us to celebrate Charlotte and those who share her extra chromosome. Many others who could not make it today donated to our team in support of Down syndrome awareness and acceptance. Our team, "Charlotte's Web" raised over $2300 and won the "Top Awareness" award at today's walk. Amazing.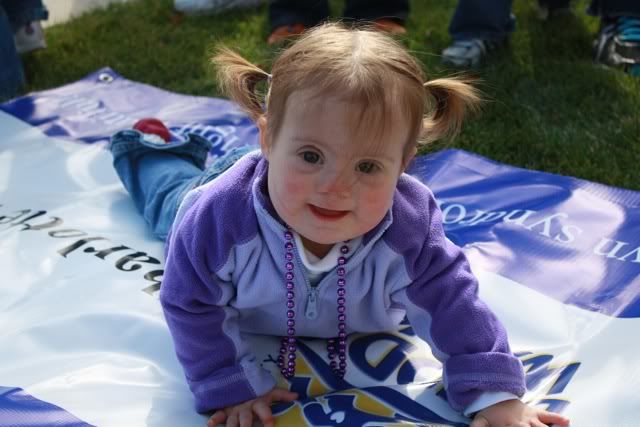 To say that we are grateful is an understatement. There really are no words to describe the amount of support we are surrounded by. Since Charlotte's birth, I have realized what selfless, amazing people we are proud to call friends and family. I hope every single one of them realizes the impact they have made on our lives.
Special thanks:
* Missy, who has been and always will be one of the most important people in my life. Thank you for being our team lead, for giving up your time to organize and fund raise, and for never seeing someone for their disability, but rather the person they truly are.
*The Warnes family for raising over $500 just as a family! You guys are amazingly selfless and giving people who are teaching your children a very, very important lesson. Thank you.
*The many, many people who donated even though you couldn't be there today. People I haven't seen since high school, people who live on the hundreds of miles away, people I have never met. Thank you for making a difference.
*Sally, our photographer. I think you may have found a summer job. Your pictures rock.
******
It
was
a beautiful day.
To the members of Charlotte's web: Our "Top Awareness" award came with a large amount of Pizza Hut gift cards. We thought this would be a good opportunity to have everyone over for a pizza party, watch your email for an evite!
Here is the direct link to Youtube for the slide show in case you want to watch it a bit larger:
http://www.youtube.com/watch?v=kgMki0YwIc4