This past weekend marked the end of summer for us. Missy went back to school yesterday, so her boys came to play for a few days. Katherine and Alec start Kindergarten on Thursday (Eek! Can you believe it? Where did the time go?!!?), and Will and Sam start preschool next week. After next week, I will have three mornings a week with just me and Charlotte; I'm not sure what to do with just one kid! I plan on keeping her busy; so far we are signed up for swimming lessons and an adaptive gymnastics class with her PT.
This past weekend, we said farewell to summer with a trip to Greenmeadow Farm. Missy and I took the big kids; Charlotte stayed home for some one-on-one daddy time.
After our farm trip, we had a cookout with some good friends. The kids had fun, the food was great (including the awesome cupcakes Alison brought...yum!), and the company was delightful.
(Harper is 8 days younger than Charlotte; they are good buddies...though Charlotte learned the hard way she can't stick her fingers in Harper's mouth.)
All the kids crowded in the clubhouse eating cupcakes.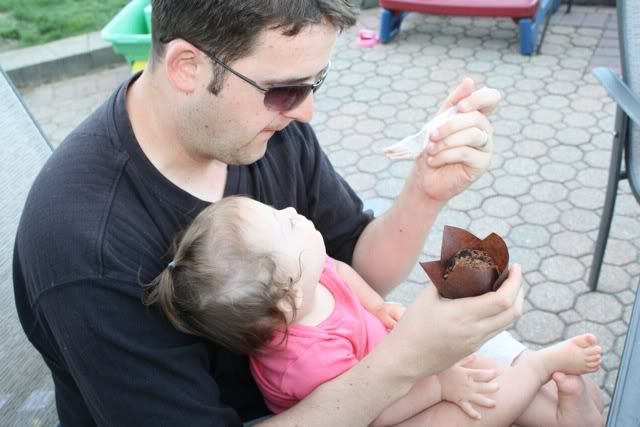 "Dad, your gonna give me some, right?!"
Sam's favorite place to be.
*******
On an unrelated note, this is often how we find Charlotte if the older kids are outside playing: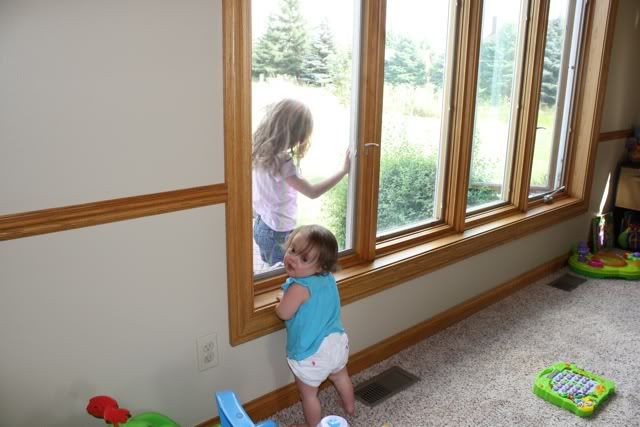 ******
Fall brings lots to look forward to in our house; Katherine and Will's birthdays, Charlotte's healthy heart day, the
Buddy Walk
(if you haven't yet, please join our team....we are going for the largest team award, I have faith we can do it!!), trips to the pumpkin patch, trick-or-treating,
raking leaves
....wait, we don't have trees in our new yard...anyway, a few zoo trips (best time of year to visit the zoo), and many more. I am a bit sad to see summer leave us, to send my oldest to Kindergarten, and return to our "school year" routine, but after spending last fall anticipating open heart surgery, I know this fall is going to rock. Stay tuned.