Another summer is done. Tonight, backpacks are lined up, clothes are laid out and the anticipation of the first day of school tomorrow is high.
We returned from our annual "up north" vacation yesterday, and took today to unpack and unwind before diving into our school year routine tomorrow. Katherine is going to be a 2nd grader, Will a kindergartener, and our baby girl is gearing up for her first year of preschool. Mike said to me earlier, "you mean, you will have 3 hours tomorrow morning with just Jack?" I stifled a laugh as I thought about that statement....
just
Jack? Hah! I will still have my hands full, no doubt, as though Jack is a bit easier, if all things are not aligned in his little universe, he is not a happy camper.
I have had a few requests for some current pictures of my crew, so in an attempt to keep all my readers happy, here are
a few
a lot of vacation pictures.
This kid can SWIM! She spent hours in the water each day!
Teaching Papa his letters.
Katherine's big catch.
Will's big catch.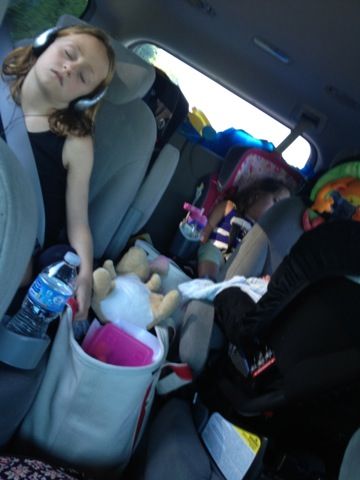 The sign of a good vacation...sleeping kids on the way home!
*****
Check back tomorrow or the next day and I will let you know how Charlotte's (& Katherine and Will's) first day of school goes...I am trying hard to suppress any feelings of anxiety that I have. I know my girl is going to do great, she is ready for this!