1) Rocking a crying baby. Don't worry, he is getting better.
2) Snoozing in the recliner by 8PM, because even though Jack is not as cranky, his sleep habits are awful. And there is no "sleeping when the baby sleeps" with your fourth.
3) Playing Candy Crush. I am on level 60. How about you?
4) Learning every song ever sung by the
Bubble Guppies
, which happens to be Charlotte's current favorite show. You should see her dance along with those guppies; I'll have to post a video soon.
5) Mastering the art of being a taxi cab driver. I spend my days carting kids from summer school to swimming to piano to therapy to
(insert various sports here)
camp to dance to tennis to zoo classes to playdates....eek. When does school start?
6) Starting my new business, because even though I felt like life couldn't get crazier, I decided I needed another job. So far, I love it. I get to hang out with adults and take a break from being a taxi cab driver, plus I get to share products I love with others.
http://EmilyCornell.norwex.biz
7) Doing web updates for Wisconsin Upside Down. Save the date! This years Buddy Walk is on September 21st. Hope you can join "Charlotte's Web" this year! And the best part? The walk is being held at Nixon Park in Hartland...right down the road!
8) Ignoring my garden. I planted one this year, but haven't had a chance to weed or water since then. The older kids have been bringing in cucumbers though, so no worries, you don't have to actually weed a garden to have it produce vegetables!
9) Watching every game the Brewers play. No idea where my 5-year-old got his obsession for baseball from, but man, it is getting old! When is baseball season over?!
10) Figuring out how to balance the needs of a 7-year-old, 5-year-old, 3-year-old, and 3-month-old. It has been hard, really hard. But, I wouldn't trade it for anything. We are blessed.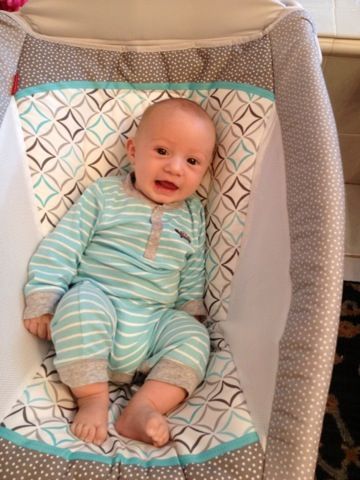 Usually I think Jack looks exactly like Will, but in this picture he resembles Katherine as a baby!