Today I started to put pictures in a folder for Charlotte's "Year in Review" slide show...but that is as far as I got. I had good intentions, but the time wasn't there. In years past, I had her birthday blog entries done weeks before her actual birthday. However, there is a certain little boy in our house who is making things like these a little bit harder these days.
We are still adjusting to this handsome little man's arrival, and it hasn't been the easiest of transitions. Jack is a bit needy and hard to please at times, but we are hoping that things will start to look up soon. In the meantime I apologize for the slow-moving blog!
******
However, on to more important things! The slideshow will come in the days ahead, but for now a few pictures of my girl's birthday weekend. It is hard to believe three years have gone by since she came into this world. So much has transpired in those three years, and in some ways I don't remember my life without Charlotte in it.
This year had its ups and downs. We went through some scary medical stuff, but it ended up being alright. We witnessed an amazing amount of growth as Charlotte's personality blossomed, and most importantly as she showed us that she really isn't a baby anymore.
We look forward to this next year; watching Charlotte's role of big sister develop, experiencing school for the first time, and continuing to entertain us with her amazing amount of energy and zest for life!
Saturday we celebrated Charlotte's birthday with our family and friends, and today (her actual birthday) we had a low-key day at home playing with new toys and trying out her new bike.
(Oh and in case you are wondering, yes, that is indeed a black-eye she has. Charlotte vs. entertainment center ....Charlotte didn't win :( )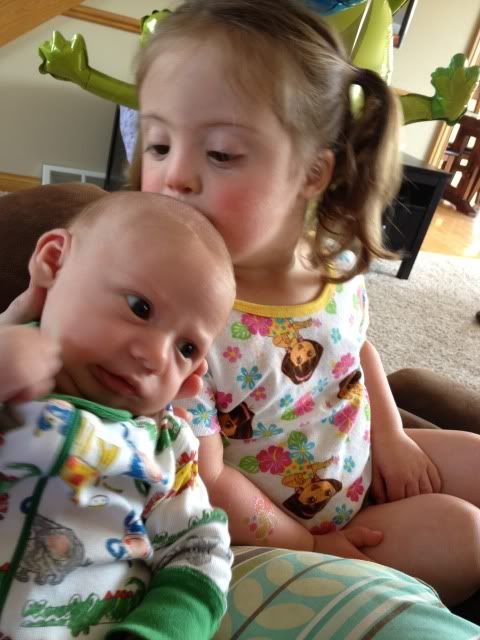 Life is good. Happy 3rd birthday to my spunky, independent, head-strong, sweet, and affectionate little girl.