Just a few weeks until the baby comes and things around here have been a bit crazy. The term "nesting" really changes meaning when you are about to have your fourth child. Back when I was pregnant with Katherine and Will, "nesting" meant I went into high gear freezing cookies in anticipation of visitors after the baby came home, washing and folding piles of newborn clothes, and making sure my sock drawer was organized.
These days, I have come to the conclusion that visitors aren't going to get snacks when they come to meet the new baby, I really only need a couple newborn outfits, and I could care less what my sock drawer looks like. Instead, the past two weeks have been wall-to-wall meetings and appointments, trying to fit it all in before the new boy decides to join us. In addition to multiple medical appointments--new orthotics, eye doc, annual cardiologist check--we have also been trudging through the special education process with our local school district in preparation for Charlotte's third birthday (which has added three additional meetings in the past week to our crazy schedule for assessments). Add in weekly OB appointments for me and weekly therapy for Charlotte and we are beat.
Thankfully, things look like they will slow down a bit this week. With the exception of Charlotte's IEP meeting on Wednesday afternoon, I think we will be back to normal for a couple weeks.
I am also super grateful for Charlotte's much improved attitude towards medical professionals. Remember this?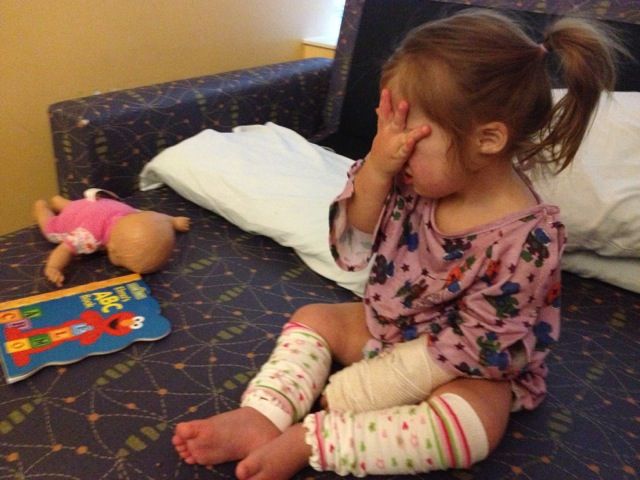 This was Charlotte's reaction to doctors and nurses back in October during her hospitalization and for months following it. I couldn't even take her to
my
doctor appointments without her crying/screaming.
Thankfully, those days are behind us, and she has been amazing the past few weeks.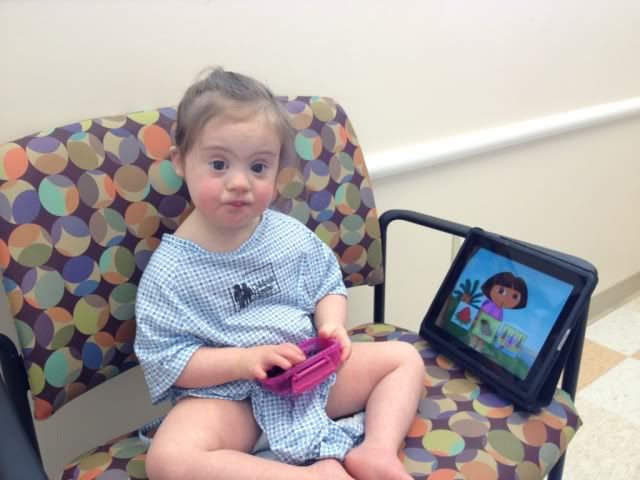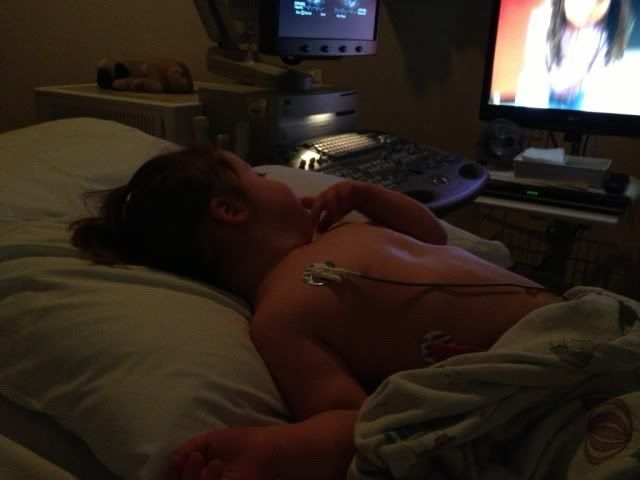 (hanging out watching Elmo during her ECHO)
Maybe a hospital bag will be packed this week and a carseat installed, and if not, no worries I didn't have those things done when I went into labor with Charlotte, and we survived.
Enjoy your Sunday!