We are lucky enough to live close to a fantastic zoo with lots to offer. One of the perks is wonderful zoo classes, in which kids of all ages can learn about different topics each month. The classes are split by age group, with the young kids attending with a parent/adult and the older kids by themselves. Will goes once a month to class with my dad, and Katherine has taken a handful of classes as well.
I decided to sign Charlotte up for a few of the 2 year-old classes. My good friend Deb, and her daughter, Quinn, signed up too. Charlotte was happy to have a buddy in class!
Last week was the first class. The topic: trains. I was a bit nervous beforehand. I wanted to Charlotte to fit in with the other kids, and I wanted the instructor to treat her like the rest of the kids in the class. The only other experience I have had with Charlotte in a toddler class setting was swim lessons, in which Charlotte did great, but the instructor had "a special place in her heart for kids with disabilities" and felt the need to single Charlotte out every chance she got. The instructor meant well, but after a few lessons it got a little old.
Waiting to go into class.
This time was completely different. If anything, I had
too
high of expectations for Charlotte. Deb reminded me a couple of different times that it was okay for her to get up an explore, instead of finishing each activity in its entirety; after all she is two and all the other kids were doing the same thing!
Charlotte loved the painting and playing with colored shaving cream, as well as demonstrating all her animal signs as we completed our zoo train costume. The instructor was great; asking Charlotte what her favorite sign was after sharing with her that she really liked the "bat" sign. Charlotte sat really well during circle time and participated in the shape train activity.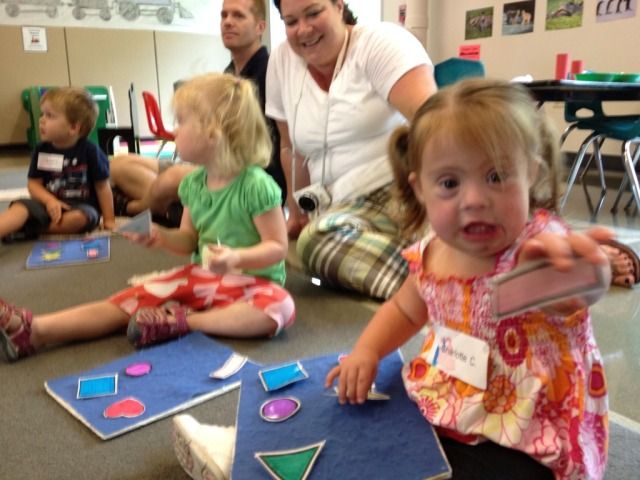 The class ended with a trip on the zoo train, which of course was a hit. And, as we were walking out, Deb gave into Quinn's pleas and Charlotte's constant signing "Please" as they both stared longingly at the carousal.
Next month we learn about cows, and in November the topic is horses. We are excited!