Happy New Year! Hard to believe another year is done, and a new one set to begin. Tonight we have a quiet celebration with our best friends; a yearly tradition that we have come to look forward to.
Before I run off to get ready for tonight, I wanted to share a recap of our year and pick a favorite picture from each month.
January
We rang in 2011 with our annual trip to the Dells. Charlotte enjoyed her first taste of swimming, and Katherine and Will both showed new confidence towards water slides. We celebrated both Alec and Sam's birthdays with them, and watched excitedly as the Packers advanced towards the Superbowl. Charlotte worked on her pre-crawling skills and decided that eating solids was a good thing.
February
February started with a massive snowstorm that kept us home for a few days. Cookie baking, game playing, and snowman building kept us busy as more than 15 inches of snow fell. The Packers went on to win the Superbowl, and Charlotte mastered independent sitting (not sure which one was more exciting?!). It was during this month that we decided staying in our current house wasn't going to work, and we began to get our house ready to put on the market.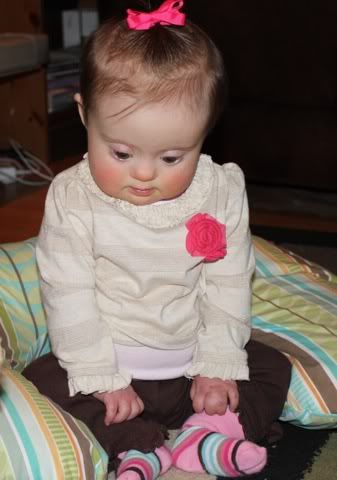 March
Our house went on the market in early March, and our lives were filled with frantic cleaning and keeping the kids busy during our multiple showings every weekend. We couldn't have made it through this stressful time without help from family and friends. During the middle of the month, milder temperatures visited for a short time and we had a chance to bust out the sidewalk chalk and bikes. Katherine took her first bus ride during a preschool field trip, and we celebrated all the March birthdays with a party at Andrew and Christine's. During the last week of March, Charlotte had her finger separation surgery, and in usual Charlotte-style, she did awesome and was a rockstar.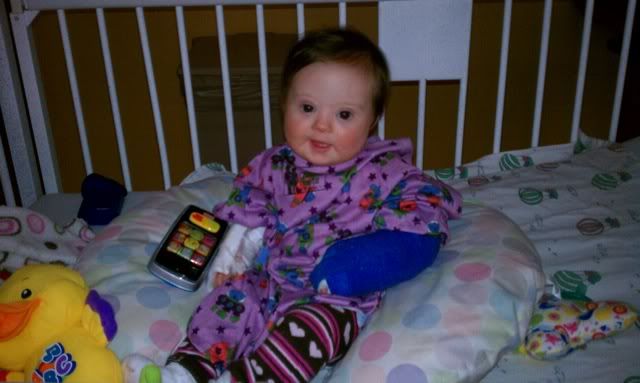 April
We found our how sassy our little girl can be when she decided to take off her own cast only 5 days after her surgery. After a quick visit to Children's ER (it was a Saturday when this happened, of course!), we spent the next few weeks trying to figure out how to keep a gauze bandage on a 9 month old. We visited the Dells once again, this time with Mike's family. It was during this trip that we got fantastic news; we had an accepted offer on our house! What we once thought was impossible, was now happening! Yes! Only problem? We had yet to find a house to buy. Oh yeah, one more big thing, Charlotte was now officially mobile. We have a crawler!
May
May was a bit stressful. Packing up the entire house and figuring out what the heck we were going to do if we didn't find a house soon. Mid-May we realized buying a house before our closing date wasn't going to happen and we arranged to store our things, ship Soph off to Kate's, and move in with my parents. While all this was going on, the older kids were finishing up the school year and I was feeling a bit emotional about Katherine saying good-bye to the kids she had gone to preschool with for three years. Add in preparing for Charlotte's upcoming birthday, and May ended up being probably the most stressful month of the year. Charlotte did learn to stand and pull herself up at the end of this month and was progressing quickly towards hands/knees crawling!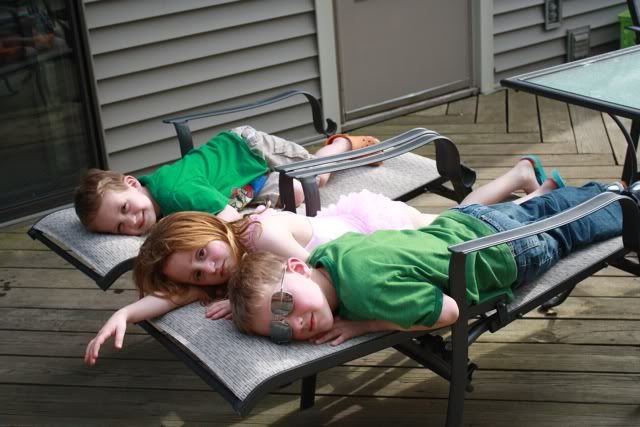 June
The biggest event of the month was my little girl's first birthday. We celebrated her crazy first year with a huge party at Kate and Bill's. The weekend after her party, we said good-bye to our home of five years and shed a few tears as we loaded up the truck and waved good-bye to our wonderful neighbors/friends. We settled in quickly at my parent's house, and continued to frantically look for a house before school started. Katherine participated in a few summer camps, and we spent our days driving to and from Brookfield/Pewaukee and hangin' with friends.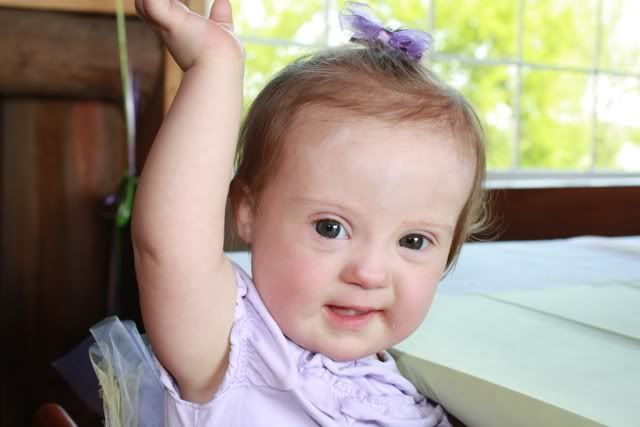 July
We finally found a house! After a few weeks of crazy ups and downs, we settled on a closing date at the end of July. The house we found was exactly what we wanted, in the school district we desired, and we were excited. We celebrated the fourth of July with good friends, and I officially became my dad's headhunter while living with them. Mike and I were able to go away for a night and leave the kids with my parents to celebrate our 7th anniversary. Two days before our actual anniversary, we bought a house that we hope to live in for a long, long time. Three houses in 7 years; I think we are done for awhile!
August
One word defined August: unpacking. We truly appreciate all the help we had moving and unpacking during the first weeks of August. We could never have made it happen without everyone's help. Katherine attended summer school with some of her new classmates, and Will took a soccer class. Charlotte had her developmental follow-up appointment and after some researching, we made the decision to look into private therapy for her. In hindsight, that was a great decision, as the difference it has made is huge. We shopped for back to school, and met new teachers for both the older kids. The month ended with the installation of our new swingset, much to the delight of the kids.
September
On the first day of September I put my eldest on the school bus and she headed off to Kindergarten. I hid tears behind my sunglasses, and she happily hopped up the bus steps. Will took over the role as "oldest" during the school day, and became quite the little helper. Will started school a week later, and Charlotte's new therapy schedule also began. She went from PT once a month to OT/PT/Speech each once a week. We had the older kid's birthday bash in early September, and Will celebrated his fourth birthday a week later. Oh yeah, my dad found a great job, yes!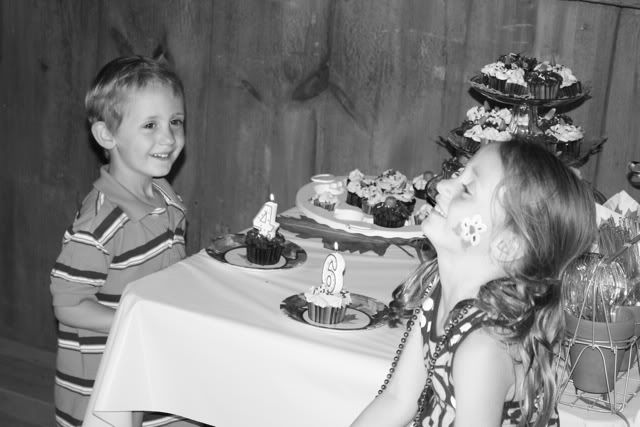 October
October was the month of birthday parties. A lot of the kid's friends have fall birthdays, and it seemed every weekend we had a different party to attend. Katherine celebrated her 6th birthday the same day Charlotte celebrated one year of having a healthy heart! Oh, the difference a year makes! Missy organized our team, Charlotte's Web, for the Buddy Walk, and we raised over $2500 for Down syndrome awareness! I am still amazed by the number of people who came out to support our girl. It was at the Buddy Walk when my little brother and sister-in-law shared that they will be having their first baby (a little boy!) in April! We hosted a huge Halloween party to celebrate all those who participated in the Buddy Walk, and despite rain/hail during trick-or-treating, the kids had a blast.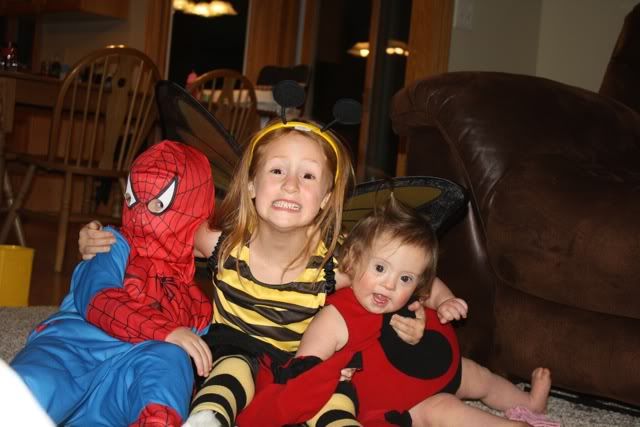 November
Mike was able to get away for a weekend with friends in Las Vegas in early November, while the kids and I hung with Missy and the boys. We took a trip to north to visit Mike's family for an early Thanksgiving in mid-November, and then followed it up with Thanksgiving on my side a week later. Charlotte was hard at work practicing her new skills; she took her first few tentative steps this month, as well as showed us her new signs. We had professional pictures taken and were able to get some great shots of the kids that really show their personalities.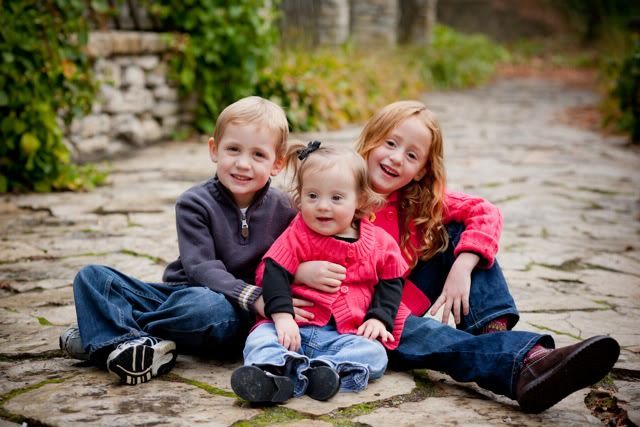 December
It is hard to believe December is over, because I feel like it just started! Every weekend in December was filled with parties, getting together with friends, and preparing for Christmas. The stomach flu decided to hit our house and not leave for about two weeks, but the kids fared well and everyone, thankfully, was healthy for Christmas. Charlotte thoroughly enjoyed opening all her gifts this year, and the older kids reminded us frequently about the magic of Christmas.
Mike was able to take quite a bit of time off at the end of the month, and we spent a lot of time relaxing, reading new books, and playing with new toys. We also took another short trip up north and were able to meet our new nephew, Renfield.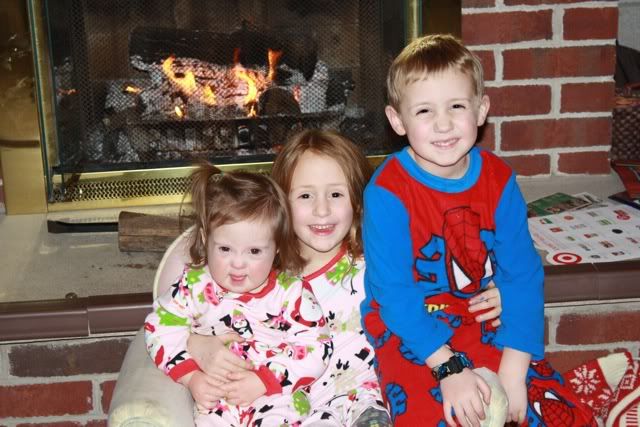 We look forward to all 2012 has to bring! Have a happy and safe New Year!!