We are doing well, and apologize for the lack of updates. A month or so ago I wrote about how I thought life couldn't get any crazier...well, it did. We are officially homeless. We closed on our house last week and are currently living with my parents. We have been frantically searching for a house for the past couple months and unfortunately are still looking. It is a buyers market, this should be easy, right? We are looking in a very specific area which makes our search hard. The one thing dictating the location of our future home is school district. We have done extensive research and visited many schools in the area searching out the best possible school for not only Charlotte, but my older two children as well. We are very lucky to live in an area where there are an abundance of great schools. However, I don't want a great school, I wanted the best. So, yes, this would be easy if we would be open to different districts, however, as stressful as life is right now, we aren't willing to settle for the one reason we decided to move in the first place. We are confident something will come up soon....at least this is what I tell myself!
**********
Charlotte is doing well. She has had a bit of a fever the past few days, and been a bit ornery; I am thinking she may finally be getting that first tooth?!? Only time will tell!
She had her 1-year well check. She is currently about 17.5 pounds (5th percentile) and 28.5 inches (35 percentile)...putting her in about the 3rd percentile for BMI. Tiny lil' thing. Overall, she is perfectly healthy and doing everything she is supposed to be doing.
She is even closer to hands and knees crawling. She will now go about five feet or so before she resorts to her tummy crawl. She is also getting better at her new trick of pulling up on things, the couch is a bit high for my petite girl, but she loves to show us this new trick on the side of the bathtub.
**********
We had a fantastic father's day weekend. A great cookout on Saturday night with some new friends, and a laid back Sunday with family at my parent's house. The kids were excited to give Mike his new baseball glove, as now that we are living on 2 acres, their new favorite pass time is throwing the ball around with dad. My parents celebrated their 40th wedding anniversary this past weekend as well...40 years and still madly in love, what an accomplishment?!?!
**********
I finally found my camera; it had been packed away in a bin. I promise to be better with posting pictures. Here are a few; the benefits of living with my parent's include being 5 minutes from my older brother's house, so the kids are able to see their cousins a lot.
Charlotte is obsessed with grabbing faces. You have to be careful, she has been known to draw blood!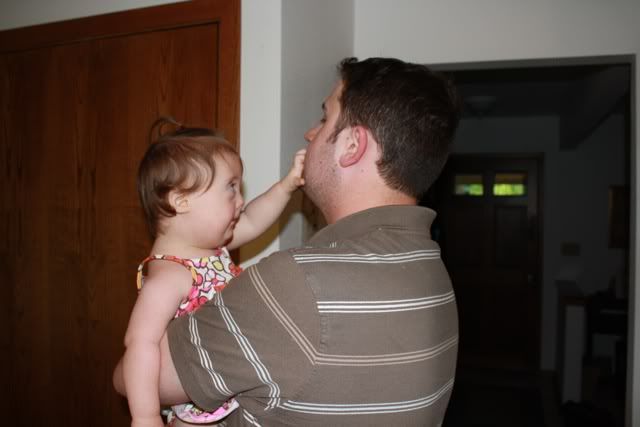 Best dad ever.
Happy mid-week everyone!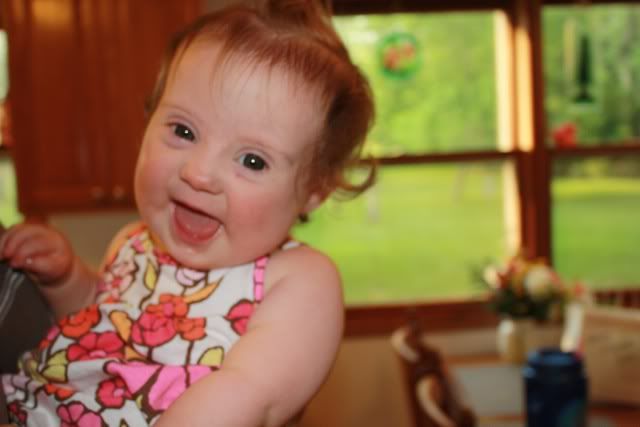 *Bear with me as I play around with the format of the blog...I am still learning, and it isn't the way I would like it yet, but I am confident it will get there eventually!